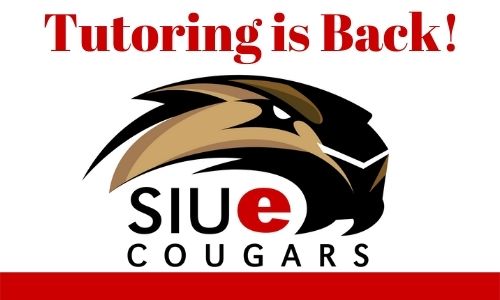 We have free tutoring at the library for students in grades K through 12.
About tutoring:
This is a free drop-in service where students from SIUE tutor kids and teens in grades K through 12. The tutors do not develop curricula or create assignments for students. Please bring a specific assignment to work on or a book you need assistance reading.
You'll find tutors in our building on the following days and times.
Mondays: 3:30-8 pm*
Tuesdays: 2:30-8 pm*
Wednesdays:  3:30-8 pm*
Thursdays: 4-8 pm*
Fridays: 2-5 pm *
Saturday: 10-5 pm*
Sundays: 1-5 pm*
Schedule last updated 3/10/23.
*If tutors are sick or have an emergency, the schedule could change.
There will be no tutoring on the following dates either due to library closings or SIUE's break schedule:
Saturday, March 4 through Sunday, March 12, SIUE Spring Break.
Sunday, April 9th, closed for Easter.
The last day for tutoring in the Spring is Saturday, April 29.