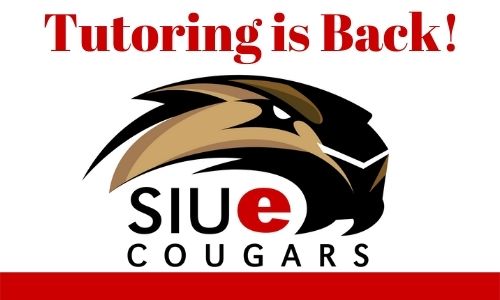 We are currently offering limited virtual tutoring (through Zoom) and in-person tutoring.
About in-person Tutoring:
We are currently onboarding in-person tutors (December 2, 2021). The bottom of this page will have schedule details and will be updated as we onboard tutors. There is no registration for in-person tutoring. It is a drop-in service.
There is no tutoring from Monday, November 22 to Sunday, November 28, and Sunday, December 11 to Sunday, January 9th because of SIUE's break schedule.
About Virtual Tutoring:
By having some virtual tutoring available, students can get the homework help they need without the concern of coming into a public environment. Students will be able to schedule a one-hour time slot to receive services with our tutor. Make sure that when you log into the Zoom Meeting, you update the name to match your registration. All communication will happen through Zoom, and the sessions will be recorded for safety purposes. If students need access to the internet or a computer, they can book a study room during the hours we are open to the public. Our wifi extends to the parking lot and Gazebo and is available when the library is closed. We recommend using Zoom on a computer instead of a mobile device so that you can use the screen share option to better share your homework assignments. If you don't have access to a computer, you can also use a mobile device with a camera and microphone.
FAQs:
Q- What if I don't need to use a full hour of tutoring?
A- Tutoring sessions are for 1-hour blocks of time. You don't have to use the whole hour, but only sign up for a time you know you can attend. You can sign up for a 2 pm session even if you will be 15 to 30 minutes late. But you will only have until 3 pm with the tutor.
Q- What if I'm late for my session or have more questions?
A- Sessions will be cut off at the end of your hour to allow the next student to receive help. If there is no one after you, the session can continue until the next student joins the meeting. At that point, you'll be told that the tutor cannot continue, and your session will end immediately. Sessions will also be cut off immediately at the end of tutors' shifts to respect their time.
Q- What happens if my name on Zoom doesn't match my registration?
A- Please make sure your name matches your registration, else we won't know you've arrived for your time.  This could cause delays in you being let into your session because we will be trying to figure out if there was a schedule change or if someone is just early to their session. If your Zoom account is registered under a different name, you must update your Zoom name before entering the meeting or add a note in your registration, so we know you'll come up under a different name. Example: If The Hulk wanted to sign up for tutoring, but his Zoom account was under Iron Man he should register as The Hulk (Iron Man).
Q-What happens if something happens and I can't make it to my tutoring session?
A- Contact us as soon as possible to cancel your session. Since we can only offer one tutor at a time, if you miss two tutoring sessions without notifying a staff member, you will not be allowed to participate in future sessions.
Q- What if I sign up last minute and don't receive an email with the Zoom information?
A- LocalHop, our website for event registrations, will send you an email when you have registered for an event will all the Zoom information. Sometimes their emails can end up in your Spam folder or Trash. If you've checked all your folders and you still can't find the email, please get in touch with us at 618-288-1212, and we will send you the Zoom information.
Q- What if I don't have reliable internet or access to a computer or mobile device?
A- We can schedule you in an available study room during our open hours. We highly suggest making the room booking ahead of time to guarantee one will be available. We can provide a laptop for you to use if you don't have your own device.
Q- What if we are concerned about our child using Virtual Tutoring services? How do we know it is safe?
A- We keep recordings and chat logs for one month of all tutoring sessions. Tutors do not have access to our registrations or your contact information. All contact between students and tutors only happens through our recorded Zoom Meetings. Any issues or concerns should be brought immediately to the Glen Carbon Library staff to investigate.
In-Person (starting Nov. 1) Mondays 5-8 pm, Tuesdays 3-8 pm, Wednesdays 5-8 pm, and Thursdays 3-8 pm.
Virtual Sundays and Mondays 2-5 pm
Virtual Wednesdays and Thursdays 3-6 pm
Registration for Virtual Tutoring Opens Weekly:
Thursday, December 2 (opens Sunday, November 21)
Sunday, December 5 (opens Sunday, November 28)
Monday, December 6 (opens Sunday, November 28)
Wednesday, December 8 (opens Sunday, November 28)
Thursday, December 9 (opens Sunday, November 28)
There is no tutoring from Monday, November 22 to Sunday, November 28, and Sunday, December 11to Sunday, January 9th because of SIUE's break schedule.