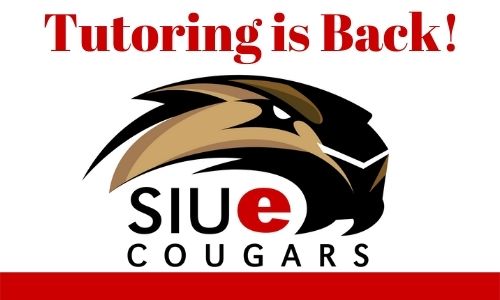 We have free tutoring at the library for students in grades K through 12.
About tutoring:
This is a free drop-in service where students from SIUE tutor kids and teens in grades k through 12. The tutors do not develop curricula or create assignments for students. Please bring a specific assignment to work on or a book you need assistance reading.
We are still onboarding tutors. Please check this page for updates to the schedule.
Schedule as of October 27, 2022:
Sundays: 1-5 pm
Mondays: 2-8 pm
Tuesdays: 3-8 pm
Wednesdays: 2-8 pm
Thursdays: 3-8 pm
Friday: 2-5 pm
Saturday: 10 am-4 pm
Last Minute Changes:
*Tutoring starts at 4:30 pm Monday, November 14
There will be no tutoring on the following dates either due to library closings or SIUE's break schedule.
Friday, November 11 for Veteran's Day.
Sunday, November 20 through Sunday, November 27.
Sunday, December 6 through Monday, January 17.
Saturday, March 4 through Sunday, March 12.
The last day for tutoring in the Spring is Saturday, April 29.