Creating world-class library services & programs.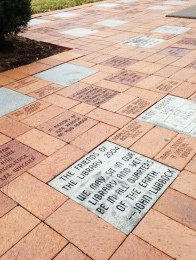 Imagine a place in the community that is open to everyone – young and old, rich and poor. Imagine this place as a gateway to knowledge – for business, for education, for pleasure. Such a place exists. It is your library.
When you purchase an engraved brick, you provide the library with funds to continue our important mission that wouldn't otherwise be possible. This means an outstanding collection of books and materials, technology and tools to access a world of information, and more diverse programs for children, teens, adults, and those with special needs.
Please contact the library at gle@glencarbonlibrary.org if you are interested in purchasing a paver.  You will need to click on the Make A Donation button and fill out the information under One Time Payment to purchase the paver before we can begin processing it.